Despite the challenges posed by the coronavirus pandemic, traditional high street agents have proved themselves to be "utterly indispensable", a new survey suggests.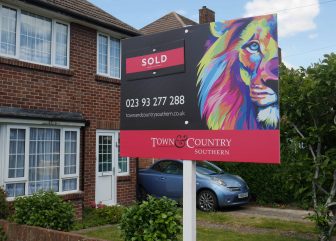 The vast majority of home movers are opting to use the services provided by traditional high street agents during the pandemic and subsequent lockdown, rather than their online rivals, the study found.
Property platform WiggyWam analysed the market last month and found that 88% of people who have recently moved home hired a traditional high street estate agent to lead the process.
Meanwhile, 8% of respondents who took part in the survey said they completed their last home move without the help of any agent whatsoever, while just 3% used an online or hybrid agent.
The survey of 1,107 UK home sellers also revealed that 72% felt that their agent performed either very well (35%) or to a satisfactory level (37%).
Just 15% of respondents said they were disappointed by the service their agent provided.
When asked what they would do to improve the experience of using an estate agent, 21% unsurprisingly said they would reduce the fees that agents charge.
Some 14% said they would improve the overall standard of service, 11% want better communication, and 10% wish it had taken less time to find a buyer.
Silas J. Lees, WiggyWam CEO, said: "At a time when one would expect online agency to be thriving, traditional agency is proving itself, once again, utterly indispensable. These findings come at the end of the most challenging year agents have faced in decades and yet people still overwhelmingly choose a high street agent above all else. There is no more glaring vote of confidence in traditional agency than this.
"Whatsmore, with customers so delighted with the work of agents, it highlights again the problems being caused by archaic and sluggish conveyancing processes causing a bottleneck as we fast approach the stamp duty deadline. Agents deserve better. The public deserves better."